Surgical Excellence & Affordable Prices

George C. Peck Jr. MD FACS is a double board-certified plastic surgeon serving the St. Barnabas community and the Tri-State area for over twenty years. He has performed thousands of successful plastic surgical procedures. Dr. Peck's training, qualifications, experience, expertise, and results allows him to stand out amongst the competition. His state of the art facility, patient safety record, and competitive pricing puts him at the head of his class.
Dr. G. Peck Jr. specializes in rhinoplasty, revision rhinoplasty, facial rejuvenation, breast surgery , body contouring, and other cosmetic plastic surgery. Dr. Peck Jr performs, rhinoplasties, septorhinoplasties, revision rhinoplasties, ethnic rhinoplasties, facelifts, neck lifts, brow lifts, eyelid surgery, ear surgery, breast augmentations, breast lifts, breast reductions, breast reconstructions, liposuction, and abdominoplasties (tummy tucks). He has been named one of America's Best Physicians in "The Guide to Top Doctors".
Dr. G. Peck Jr. has lectured and performed surgery throughout the United States, Mexico, South America, Central America, Europe, and the Dominican Republic. Dr. Ivo Pitanguy, a world renowned Plastic Surgeon, invited Dr. Peck Jr. to be his guest lecturer in Rio De Janeiro, Brazil. Dr. Peck Jr. has published numerous papers on Rhinoplasty and has frequently lectured to Plastic Surgeons at the National Meetings of the American Society of Plastic Surgery in every region of the country.
His surgery is performed at Essex Surgical, an ambulatory surgery center in West Orange, NJ. Essex Surgical is registered in the state of NJ, and Medicare certified by the AAAASF. Anesthesia services are provided by Board Certified Anesthesiologists (or Board Eligible) from St. Barnabas Hospital. Our nursing staff is highly professional and experienced, making your surgery at Essex Surgical as comfortable and convenient as possible.
Recently, Dr. Peck Jr was re-elected to the Board of the NJ Association of Ambulatory Surgery Center. He also is a Certified Medicare Inspector for ambulatory surgery centers and performs surveys in the Northeast region for the AAAASF. Please visit the Essex Surgical website at www.essexsurgicalnj.com
Plastic Surgery Societies
Dr. George Peck is a member of the American Society of Plastic Surgeons®. This prominent organization requires members to be accomplished plastic surgeons committed to high standards and quality care. This logo is a symbol that a plastic surgeon is highly trained and experienced in the field.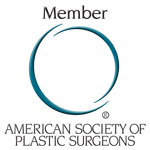 The Latest Advancements in Skin Care & Cosmetic Surgery
As well as performing all aspects of cosmetic surgery, Dr. George Peck Jr. is highly experienced with laser procedures and chemical peels.
Dr. Peck is also skilled and proficient in the use of multiple fillers and botulism toxin. Depending on the patient needs, he uses Hyaluronic Acid injections (Boletero, Juvederm, Perlane), Hydroxyappetite Injections (Radiesse), and/or Poly Lactic Acid (Sculptra) to improve fine lines, deep creases, lip augmentation, and to highlight the cheek bones. Dr. Peck Jr. also performs Trichlorcetic Acid (TCA) peels and Phenol peels as office procedures to modify fine lines on the face, lip, and eyelids.
In the office, Dr. Peck offers the services of an accomplished skin care specialist, Goscia, who performs microdermabrasion, glycolic acid peels, and facials. He also offers the services of a permanent make up artist, Maryanne, who performs permanent eyeliner, eyebrows, lip liner, and areola reconstruction.