Market in 2013 for plastic surgery was mainly female, says data released by the British Association of Aesthetic Plastic Surgeons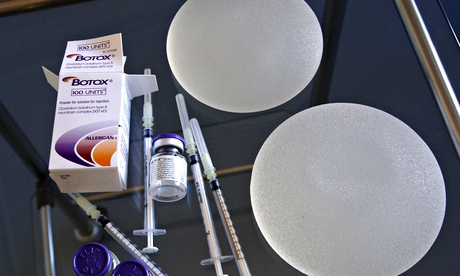 Demand for cosmetic surgery in Britain grew in 2013 despite concerns over unauthorised chemicals in breast implants. Photograph: David Levene for the Guardian
More and more Britons are turning to cosmetic surgery to improve their appearance, with the number of procedures topping 50,000 a year for the first time in 2013.
A total of 50,122 operations were carried out last year, 17% more than in 2012. Demand grew despite the scandal over potentially hazardous PIP breast implants and grew by levels unseen since before the recession began in 2008.
Breast enlargement remains the most popular procedure, with 11,135 augmentations performed in 2013 – up 13% year-on-year – according to figures collected by the British Association of Aesthetic Plastic Surgeons (BAAPS).
Anti-ageing treatments were the second and third most popular, with 7,808 blepharoplasty (eyelid surgery) operations carried out – a rise of 14% – and 6,380 face or neck lifts undertaken (up 13%).
In all 5,476 people (up 13%) underwent breast reduction, while 4,878 (up 17%) had a rhinoplasty to improve the shape of their nose. While the 10 most common surgeries all saw double-digit rises, the biggest jump was in fat-removing liposuction operations. A total of 4,326 people had the procedure, up 41% in a year, reflecting the relentless rise in obesity levels.
The market for cosmetic procedures remains predominantly female. Women had 45,365 operations, compared with 4,757 for men.
BAAPS president Rajiv Grover said confidence in cosmetic surgery had returned "with Britons choosing to spend on procedures with proven track records, such as liposuction".
He added: "Whether it is breast augmentation or anti-ageing procedures like facelifting, the public are choosing tried and tested surgical methods rather than the magical-sounding quick fixes that fail to deliver results."
However, patient dissatisfaction is growing alongside rising demand, warned Sally Taber, chair of Independent Healthcare Advisory Services. She said: "It is important to measure patient satisfaction rates as well as numbers of operations carried out.
"While it may be that the majority of procedures were wholly satisfactory, the Independent Sector Complaints Adjudication Service (ISCAS), the body responsible for adjudicating on complaints in the independent healthcare sector, has seen an increase in complaints from patients who have undergone cosmetic surgery during the same period. This needs further attention."
Related Posts via Categories